BOB ANDY PROCLAIMS, "LOVE IS SURE"
Posted by Anubis Communications on June 19, 2013
|
0 Comments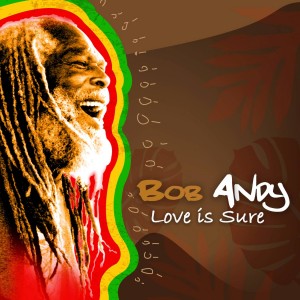 Kingston, Jamaica – June 15, 2013:  Keith 'Bob Andy' Anderson is a living legend, who consistently adds credit to his acclaimed reputation as a singer and songwriter. His latest release, titled "Love Is Sure," is a soulful testimony to the power of love to uplift and transform the worst of times. The single succinctly chronicles Andy's upbringing as a poor orphan, and tells the story of how "the miracle of love" helped him turn his own life around.
Having triumphed over a potentially crippling illness in recent months, Andy's proclamation is all the more compelling. The impeccably written lyrics illuminate a credo that Bob Andy lives by. The haunting chorus, which repeats, "love is sure that's all I know, I don't need to know anything more," will undoubtedly win the hearts and souls of many across the globe.
"Love Is Sure" was produced by Willie Lindo, and is but a tantalizing precursor to the album that Andy has in store. The single boasts an all-star cast, with Paul Douglas on drums, Willie Lindo doubling as guitarist, Robbie Shakespeare on bass, Robbie Lyn on keyboards and Kashiff Lindo singing background vocals.
The single is available for download on iTunes and the video is due for release this summer.
# # #  
[212 words]
Buy "Love Is Sure" on iTunes >
https://itunes.apple.com/us/album/love-is-sure-single/id660258910
Visit Bob Andy's website for photos and biographical information >
Connect with Bob Andy on Facebook >
https://www.facebook.com/bob.andy.90
For additional information or to request interviews contact Anubis Communications
876-868-9422
pr@anubiscommunications.com