KY-MANI MARLEY & PROTOJE PERFORM LIVE FROM KINGSTON
Posted by Anubis Communications on April 28, 2013
|
3 Comments
FOR IMMEDIATE RELEASE

April 29, 2013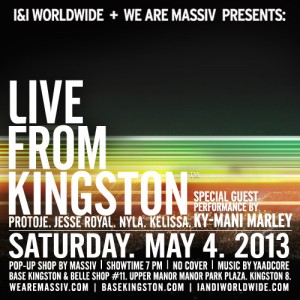 Kingston, Jamaica:  Live From Kingston returns on May 4 for its third staging, with a spectacular lineup featuring Ky-Mani Marley, Protoje, Nyla, Jesse Royal and Kelissa. Adding to the allure of free live music, patrons will have an exclusive opportunity to browse the Massiv clothing collection, which is a favorite of sidewalk 'fashionistas' and celebrities alike, as Rihanna has been spotted sporting the brand.
Billboard charting recording artiste Protoje – who is affiliated with the I&I Worldwide outfit that produces the event – recently released his sophomore album The 8 Year Affair, to worldwide critical acclaim. This will be his last performance in Jamaica before hitting the road with his band The Indiggnation, touring the United States' west coast and several European countries.
Rasta Love, a single from his debut album The 7 Year Itch, which features Ky-Mani Marley recently topped 9 million views on YouTube. Marley, who ended his tour of Europe in February, adds a unique flair of Reggae peppered with Dancehall and Hip-Hop to the eclectic lineup.
Kelissa McDonald's soulful delivery and memorable melodies have captivated the hearts and attention of audiences from Kingston to Accra. She recently released a music video for the single Afrika from her EP Rebel In Disguise, which was filmed on the continent in Nigeria & Ghana.
Jesse Royal, one of the emerging front-runners of the Reggae Revival and a student from the school of the late Phillip "Fattis" Burrell, is gaining renown for his irresistible magnetism and rousing performances.
Singer & songwriter Nyla has worked with some of the most recognized names in the music business, collaborating with Akon as part of the Brick and Lace duo, and writing tracks for J.Lo and Christina Aguilera. She recently released a new single titled Stand Up to launch her solo career.
As if the performance lineup isn't enough to entice you, Base Kingston & Belle will host a pop-up shop by Massiv's "clothing with a message," and DJ Yaadcore will be at the controls, filling the air with his signature Reggae Aroma between sets.
Show time is 7pm at Base Kingston & Belle in Manor Park Plaza. There is no cover charge for the event, so patrons can look forward to supporting the limited edition clothing and artiste merchandise that will be available for purchase.
The Live From Kingston series has earned itself a reputation for high production value and quality content. If the two previous editions are an indication of what is to come, this third staging might indeed be the charm, and the best one yet.
# # #  
[433 words]
For information contact Anubis Communications
876-868-9422
pr@anubiscommunications.com
Click this link to subscribe to the Live From Kingston YouTube Channel > http://www.youtube.com/channel/UCyZ-6YGWgHDUSvXmybAvSrQ?feature=watch
Follow @AnubisPR & @LiveFromKgn on Twitter for updates.