REGGAE RULES AT "VIBES IS RIGHT"
Posted by Anubis Communications on December 29, 2011
|
3 Comments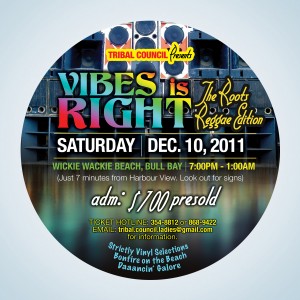 Reggae rhythms pulsating from vinyl LPs reign supreme once again at the second installment of Vibes Is Right, dubbed The Roots Reggae Edition. Wickie Wackie Beach in Bull Bay was a music lover's paradise on Saturday, December 10, when The Tribal Council hosted the second staging of Vibes Is Right.
Producers of the event – Janine "Jah9" Cunningham, Kareece Lawrence, Lesley-Ann Welsh and Natalie Reid – are all actively engaged with the emerging live music landscape, and they consider the Vibes Is Right series part of their efforts to foster a vibrant, lucrative and diverse Jamaican Music Industry. When asked what patrons could expect, Lawrence promised, "every element will be right on point; from the ambiance to the music, the energy of the space, the sights and sounds. We love what we do and it's all organic and thus, alive." The vibes were indeed right.
The summer staging of the event was sensational, featuring sounds from the Rockers era, bonfire on the beach, a breathtaking full moon and a sophisticated but authentic flair. The second staging featured Roots Reggae and 'first time' dancehall, including sounds like the infamous Sleng Teng 'riddim', Sister Nancy, Major Worries, Marcia Griffiths and Cutty Ranks, to name a few. Patrons can also look forward to a guest performance by melodica player Addis Pablo, son of Augustus Pablo – dub producer, keyboardist and melodica player of international renown.
Vibes is Right: The Roots Reggae Edition delivered yet again. Commenting on the choice of venue, Reid stated, "Wickie Wackie is just 7 minutes from Harbour View, closer than Port Royal. The location is right on the sea and has an amazing energy. When we add our special touch, the space comes alive."